Supporting well-known URL for changing passwords
23 Oct 2020
Hi everyone,
we're about to slip into a well-deserved weekend here at OpenCage HQ, but in the spirit of more working in public (and just general selfishness as I want to see this feature more widely adopted by others), I wanted to point out one new feature we recently rolled out to our account dashboards. Regular readers will know that over the last few weeks improving our dashboards (example one, example two) has been a focus, as previously they had been a bit, shall we say, utilitarian.
We now support the Well-known URL for Changing Passwords spec, which means that if you visit the URL https://opencagedata.com/.well-known/change-password
in a browser you will be redirected to the correct location on our site where you can change your password, as you can see here:
$ curl -i 'https://opencagedata.com/.well-known/change-password'

HTTP/1.1 302 Found
Server: Cowboy
Date: Fri, 23 Oct 2020 12:48:49 GMT
Connection: keep-alive
Location: https://opencagedata.com/dashboard#account
Content-Type: text/html
Cache-Control: no-cache
...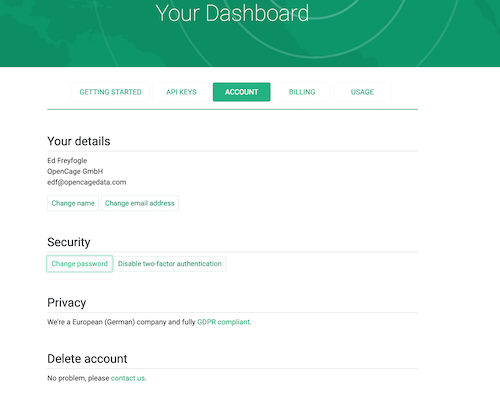 "So what?", I hear you ask. Well this means it is much easier for password managers and browsers to sennd you to the right place to change your password, thus removing one small bit of friction to keeping your password secure. Here's a nice article explaining this simple to implement feature, that I - as a long-time hater of friction and one of the world's most impatient internet users - hope many other sites also adopt.
Yet another very small step to making our geocoding service even simpler to understand and use. As always, please send us your feedback.
Happy geocoding,