OpenStreetMap Interview: PoliMappers
27 Dec 2017
Friends,
I hope you are enjoying the holiday season and recharging your batteries with friends and family before a great 2018.
Looking back our first post of the year was an interview with an OpenStreetMapper in Italy, specifically Martin Raifer told us about the OSM community in the South Tyrol region. We end the year as we started it - in this final post of 2018 we speak with PoliMappers, the Youthmappers chapter at Politecnico di Milano (which will be hosting the upcoming 2018 State of the Map).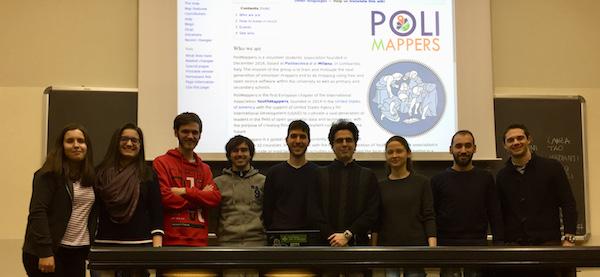 1. Who are you and what do you do? What got you into OpenStreetMap?
We are mainly students of engineering at Politecnico di Milano (Italy), including undergraduate, graduate and postgraduate students. Most of us have a background in geospatial science thanks to courses on cartography and geographic information systems given in our university. The first contact with OpenStreetMap (OSM) happened during these courses where related practice sessions and/or seminars were organized by the professors and researchers who have already been involved in OSM and who later became the faculty advisors of PoliMappers.
2. What is Polimappers? What do you do? How did it get started?
PoliMappers is a group of volunteer students of Politecnico di Milano, founded in December 2016. We are a chapter of the international association YouthMappers, and the first one established in Europe. The mission of the group is to train and motivate the next generation of volunteer mappers and to do mapping using free and open source software within the university as well as primary and secondary schools.
Our activities include organization of training sessions on some prominent open source mapping technologies related to OSM, such as iD editor, JOSM and Mapillary. We also organized both in-person and remote mapathons. Moreover, we actively participated in OSM-related activities organized by other local and global OSM communities. Our events are public and we do our best to promote these initiatives by word of mouth, social media channels, etc. in order to reach people interested in contributing to the free and open map of the world.
PoliMappers started as a result of the remote kick-off meeting between students and the President of YouthMappers, Prof. Patricia Solis, organized by our faculty advisors. After that, students who were interested in building a chapter of YouthMappers came together and held officers elections for the organization and management of different activities to pursue our shared mission.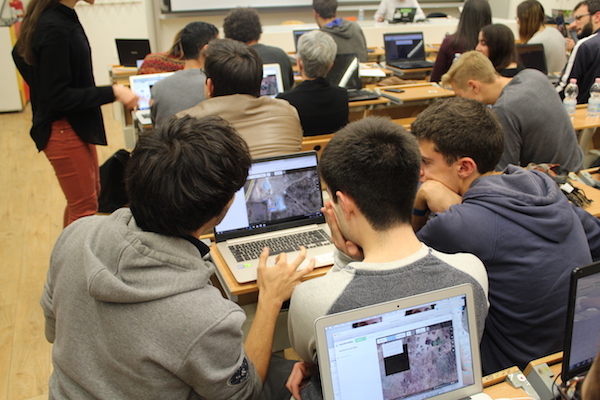 3. What are the unique challenges and pleasures of mapping in a university environment? What aspects of the projects should the rest of the world be aware of?
Mapping in a university environment has the unique advantage of bringing together young and motivated people having different backgrounds yet similar values and available to spend time together to improve OSM both locally and globally. This is key to enjoy mapping more, to make it possible to organize attractive events to involve volunteers outside PoliMappers and as a result to effectively address the actual mapping needs of the OSM community. A great example is the mapping party we organized to map our campus in January 2017, where we had a lot of fun while improving the OSM map of Politecnico di Milano! However producing geospatial information by enriching OSM is not entirely recognized within academia, which creates a challenge in finding collaboration and support to our activities.
The projects are successful when a community people sharing similar interests are involved. We aim to create interest by organizing "cool" events during which we focus to let people feel about mapping uncomplicated and enjoyable, yet very important. We also trust that the idea of being part of a big and active community is an important motive to involve new volunteers.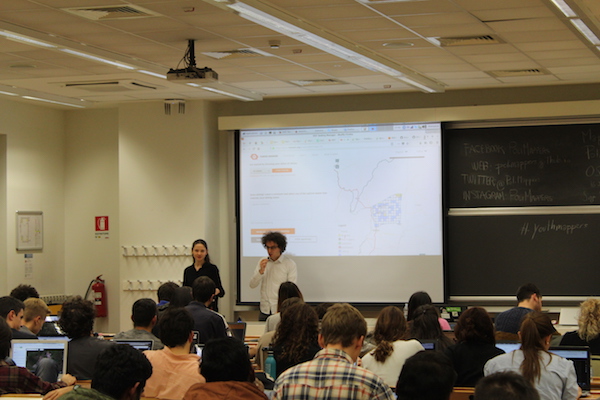 4. What is the best way for people to get involved?
We always announce our activities beforehand on social media. People can get involved with our activities through our Facebook, @polimappers on Twitter and our Instagram page. We also keep our web page and wiki page updated. Moreover we are open to answer questions via email at polimappers at gmail.com.
5. What steps could the global OpenStreetMap community take to help support you?
Since the beginning, both local and global OSM communities have demonstrated their willingness in supporting our activities in many ways: from simply spreading the word about our events to involving us in their initiatives. We trust that networking and mutual support are key to ensure the sustainability and success of any community project. We are also very happy that we will be involved in the local organizing team of the next State of the Map (SotM) conference, organized by the OSM Foundation and taking place at our university in July 2018!
6. In 2014 OSM celebrated its 10th birthday. Where do you think the project will be in 10 years time, both globally and in Italy specifically?
We think that the project will continue to grow as there are uncountable benefits that OSM brought within manifold contexts, ranging from business sector to humanitarian aid. The constant need for up-to-date and homogenous geospatial information at the global scale makes OSM an irreplaceable tool for both developed and developing countries. This also applies to Italy, where many local administrations, including Milan, have started to include OSM data into their operational workflow. We hope that the possibility of recognizing OSM community as the first international mapping agency will come true in the future.
Many thanks PoliMappers for your inspiring example - and for hosting State of the Map this year (I am looking forward to attending after unfortunately missing last year in Japan). It is fantastic to read about how you are training the next generation of OSMers. I think you are a great example for universities worldwide of how they can embrace OSM as a teaching and community building tool. Best of luck to you in 2018.
Please let us know if your community would like to be part of our interview series here on our blog. If you are or know of someone we should interview, please get in touch, we're always looking to promote people doing interesting things with open geo data.