Tools we use: SavvyCal
12 Dec 2022
Hi everyone,
time for a final 2022 addition to our "tools we use" series of posts, where we look at tools and services we use to build OpenCage. With the end of the year near, it's a natural time to think of calendars, and so we wanted to shine the spotlight on SavvyCal, a calendar scheduling software we are customers of.
SavvyCal is a great tool to make it easy to schedule meetings / calls. As a small team we really don't have time and energy to ping emails back and forth to schedule a call. An endless volley of "I can't do Monday, what about Thursday" emails sucks the joy out of everything.
Why we like SavvyCal
We use SavvyCal at OpenCage if you want to set up a call with us, and for Geomob when we schedule podcast recordings. There are many such tools, but the genius of SavvyCal is how simple it makes things. As just two examples of many: the scheduler can easily overlay their calendar, and it's so simple to create a unique, customised scheduling link for a specific recipient. There are many more features, for example if you have larger teams, to be honest our usage barely scratches the surface of this powerful, yet still simple to use, tool.
Here's a screenshot of the interface if you want to schedule a call with us: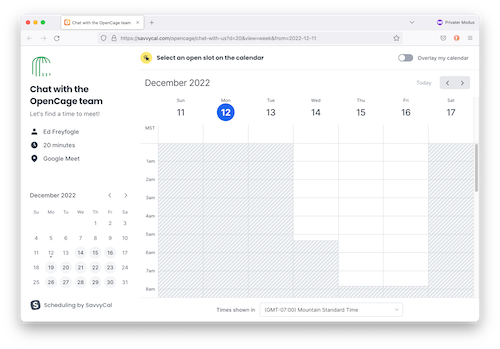 What we would improve
Normally at the end of a "Tools we use post" we list areas for improvement. Honestly though we don't have any suggestions, SavvyCal is working great for us. Indeed we give the SavvyCal team some extra bonus points for recently releasing a timezone API.
Conclusion
If you want to simplify the administrative burden of scheduling calls in 2023, we're happy to recommend SavvyCal (use this link to get your first month free).
Happy geocoding (and scheduling) in 2023,