Supporting HOT's microgrant funding drive
28 Nov 2018
Friends,
As 2018 draws to a close, it's normal to look back and take stock of how we've done. We've been fortunate here at OpenCage to have had a good year, and as such I'm delighted to announce that we're able to continue our long-standing tradition of supporting the Humanitarian OpenStreetMap Team (HOT) via a donation.
For those that don't know, the Humanitarian OpenStreetMap team is an organization that helps coordinate volunteer mapping of crisis regions around the world. Their work focuses on improving the maps in regions hit by disasters but also on creating the digital geo-infrastructure in places with chronic problems. The build on top of and contribute to OpenStreetMap.
This year our donation will help HOT kick off their annual microgrant donation drive. HOT's microgrants are specifically targetted grants designed to help local communities with GPS devices, internet access, training, and budget for field activities. In this way local mappers who understand the local conditions and concerns have the chance to establish local communities - not just capturing the current map, but building the conditions such that a local community can maintain the map going forward.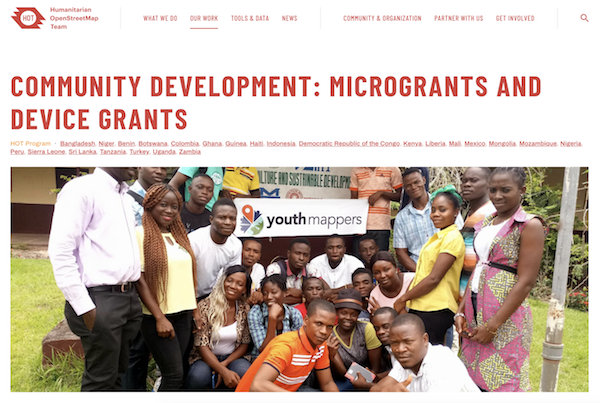 It's a pleasure for us to again support HOT. Thank you to our customers and partners for making it possible! We encourage all of you to please also contribute - either via a donation, but also as mappers. There are many ways to get involved. The HOT slogan: "Mapping our world together" has never been more apt.
Many thanks to the Humanitarian OpenStreetMap Team community for all of their efforts and best wishes for a great 2019,
Ed (freyfogle)