Sponsoring State of the Map 2021
1 Jun 2021
Hi everyone,
I am delighted to announce that we have continued our long-standing tradition of sponsoring OpenStreetMap events. We are Bronze sponsors of the 2021 State of the Map conference which will be held online from July 9th-11th. We are delighted to be in good company with many other sponsors: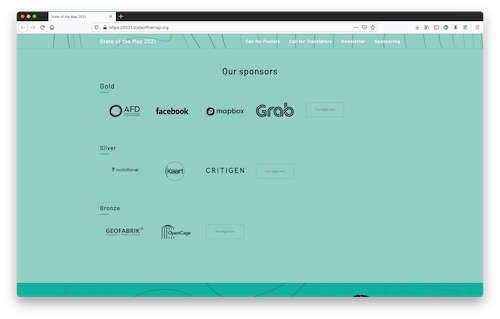 State of the Map is the annnual conference for the global OpenStreetMap community. Conferences like SotM are a fantastic way to catch up with old friends, make new connections, and just generally see all the innovative projects going on within the global OSM community.
Many thanks to the volunteer organizers putting on the event. While the online nature of the event does mean we lose some of the joy of in-person connection, it does mean the event is accesible to everyone with an internet connection, and we encourage you all to attend. Thank you to our customers who enable us to financially give back to the OSM community like this.
If you personally would like to support OpenStreetMap - beyond just mapping - I encourage you to become a member of the OpenStreetMap Foundation - we're proud to be corporate members.
See you at State of the Map!
BTW - when I say "long-standing" tradition, I really mean it. As those who have followed our journey may know, OpenCage originally spun out of a company based in London called Lokku Ltd, of which I was co-founder. At Lokku we ran a real estate search service called Nestoria, and we are proud to been amongst the sponsors of the very first ever State of the Map held in 2007.