Sponsoring FOSSGIS-Konferenz 2023
1 Dec 2022
Hi everyone,
I'm pleased to share we are (once again) Bronze sponsors of FOSSGIS-Konferenz 2023. This year's conference will take place from 15th-18th of March in Berlin, and we will be there.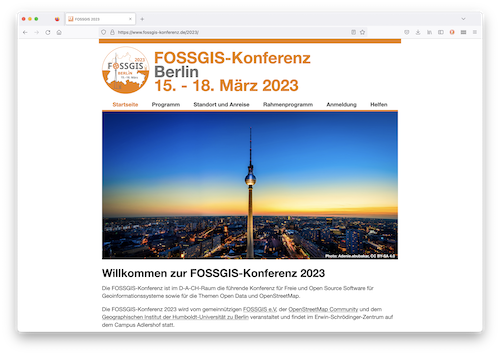 FOSSGIS stands for Free/Open Source Software Geographic Information Systems.
While the exact schedule of talks is still to be decided, we can assume it will follow the same pattern as past FOSSGIS events with many interesting talks about open source geo software, open geo data generally and, of course, OpenStreetMap specifically.
Many thanks to the organizers and many other sponsors of what is sure to be a great event. We hope you can join us.
Wir sehen uns in Berlin!
BTW - this is just one of many events and projects we sponsor as a way to give back to the open source and open data communities we rely upon.