Speaking at API Days BCN on September 12th
20 Aug 2019
Hi everyone,
apologies to those of you who have been sitting there endlessly refreshing the blog in the hope that a new post would appear. Things have been a bit slower over the last few weeks due to a bit of well-deserved summer holiday. Also, behind the scenes we've been grappling with the inevitable paperwork around the move of our company to Germany. I am delighted to say that the move is now fully complete.
Both the holiday and the change of legal entity were good chances to reflect on how our business has grown over the years, carving out an open-data niche in the highly competitive geocoding space. And this is timely as on the 12th of September I'll be speaking at API Days Barcelona, sharing our story of how we compete as a bootstrapped small business versus global giants like Google.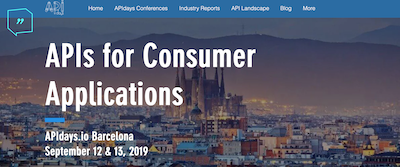 API Days is a series of conferences held around the world looking at the fast-growing trend of API adoption, the rise of new API-based businesses, increased reliance on on third-party APIs as core infrastructure, and many related topics. It is a great chance for users and developers of API to learn from each other, to share best practices and lessons learned (sometimes painfully).
My talk will delve into some of the ways we've differentiated our geocoding service against similar offerings from global giants. Given very limited resources, and starting from complete obscurity, how have we managed to win over customers? I'll go into details on some of the key attributes of building an infrastructure business for others to rely upon.
While the talk will use specific examples from OpenCage, I'll also showcase a few other similar businesses that we are fans (and in many cases customers) of. My hope is that the lessons can be applicable to others across the API space, and certainly not limited to just the geo sector.
If you have any specific questions or topics you'd like me to comment on please get in touch.
Many thanks to the API Days organizers and sponsors for what is sure to be a great event. I'm looking forward to speaking, listening, and learning.
I hope to see you there,