SotM Asia 2018 - Natural disasters for better maps?
26 Nov 2018
This is the third post in our three part series summarising the talks at State Of The Map Asia held Nov 17-18, 2018 in Banaglore, India.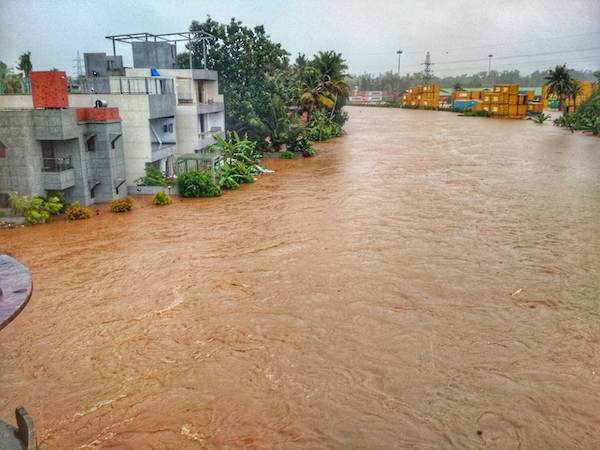 Er.jose1589 CC BY-SA 4.0, from Wikimedia Commons
2013: Typhoon in the Philippines 2015: Earthquake in Nepal 2018: Floods in Kerala, India
What is common between these events apart from these being natural disasters? Each event saw OpenStreetMap being exploited to its fullest. If there is one good byproduct out of such disasters which usually causes extensive destruction, it is the extensive clean-up and sprucing-up of OpenStreetMap.
SOTM Asia 2018 has participation from people who had been there and done that on all the three occasions.
Floods in Kerala - adding 400 thousand data points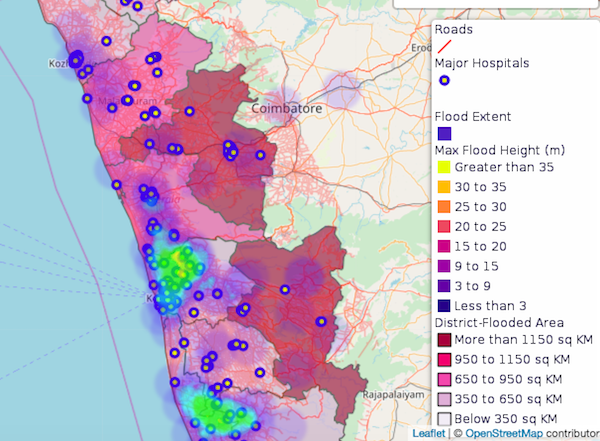 Manoj Karingamadathil spoke about maps that saved lives during the floods of Kerala in August-September, 2018 which left close to 500 dead and caused extensive destruction. More than 2000 volunteers from around the world added 400,000 plus data points to the base map of the affected area; this added more than 450,000 buildings and close to 9,500 kilometers of road. Crowdsourced data was extensively used to map relief centers helping the government to optimize the relief measures.
Earthquake in Nepal - adding 13,000 miles of road

Before and After mapping comparison by Pierzen
Dr. Nama Raj Budhathoki of Kathmandu Living Labs, a civic tech organization in Nepal, participated in a panel discussion where he spoke about how the earthquake in Nepal in 2015 which killed nearly 9000 people, activated extensive mapping efforts. More than 9000 volunteers from all over the world sprung into action. This resulted in more than 13000 miles of road 110,000 buildings being mapped. The maps were used extensively to deliver aid in an effective manner.
Typhoon Haiyan in the Philippines
In 2013 the typhoon Haiyan hit Philippines devastating large parts of the country. Erwin Olario from the Philippines spoke about how Humanitarian OpenStreetMap Team (HOT) activated close to 1,700 volunteers to generate data points on the map to aid quick relief measures.
This visual says it all.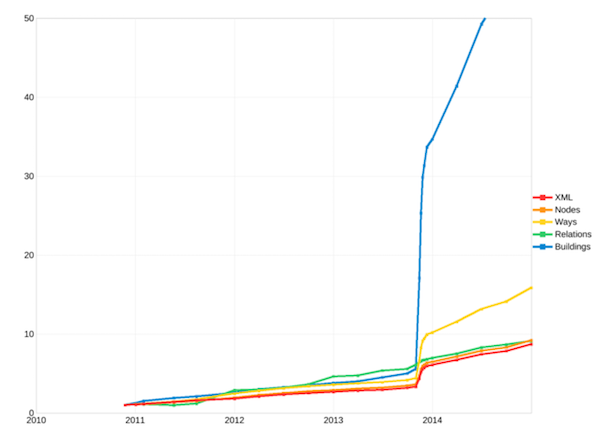 Sustaining momentum after the data explosion
Mob mapping during the time of disasters is good; but how do we sustain the mapping efforts? Gaurav Thapa of Kathmandu Living Labs talked about a project adoption of OSM Data by the local government of Pokhara city of Nepal. The citizens here had misconceptions that cartography was complex and technology-heavy. The team worked with the local population including schools and colleges to remove such misconceptions. Telling people "why" they must generate data gives them a sense of empowerment. Also, mapping in vernacular languages helps quicker adoption, as evinced by Airin Akter from Bangladesh. Small measures to make maps more accessible and involving the local population has led to the sustenance of mapping efforts.
Activities such as building a DEM (Digital Elevation Model) by Gramener using OSM base map to estimate floodwater spread in case of ocean floods can demonstrate to the citizens the need to keep the maps accurate and updated.
Soliloquy
We must not depend on a disaster to get our maps in the right shape; it must be a continuous effort. Contributing to a map is like cleaning falling leaves from trees, soon after you clean there is another set of leaves taking their place.
We hope you enjoyed this summary of State of the Map Asia. It was a great event that hopefully helps accelerate the deevlopment and use of OpenStreetMap in India, Asia, and the world. Get involved!
Everything that happens, happens somewhere.
Happy geocoding,