Moving to Stripe Checkout
24 Aug 2021
Hi everyone,
like many of you we've been taking things a bit slower the past few weeks, enjoying a bit of much needed time away from the keyboard to recharge.
But we nevertheless did manage to roll out one important change last week: all of our billing is now done using Stripe's Checkout service.
Previously the payment processing for subscription customers had been done by Stripe, but we were using their libraries behind the scenes rather than going directly to their checkout pages because they didn't yet properly support capturing European customer VAT data that we needed to correctly calculate tax. Happily that has now been fixed. Nice work, Stripe!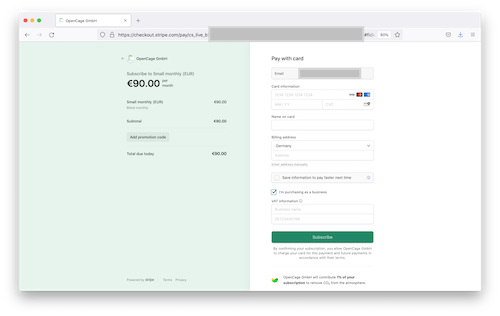 This is a nice improvement because it means we have one less thing to maintaina nd can instead focus our energies on improving geocoding (and our soon to launch geosearch service - some details here).
Just as a reminder, 1% of all sales that Stripe processes for us are invested in carbon removal projects via the Stripe Climate program. Learn more on our Stripe Climate page.
Happy geocoding,