Interview: openstreetmap.cymru
23 Jan 2018
Our interview series with OpenStreetMap communities around the world continues today with an interview with the creators of the recently launched openstreetmap.cymru, the Welsh language version of OpenStreetMap. We spoke with Ben Proctor, David Wyn, and Carl Morris.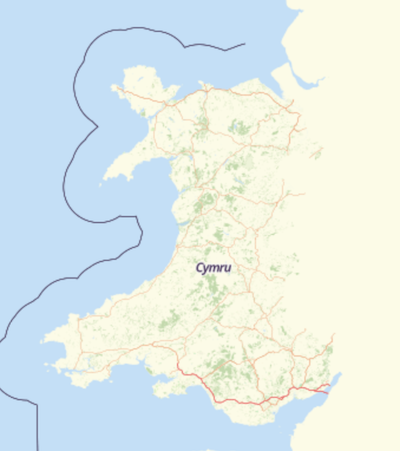 1. Who are you and what do you do? What got you into OpenStreetMap?
Ben Proctor: I work for a company based in Cardiff called The Satori Lab. We host ODI-Cardiff: the Open Data Institute Node in Wales. I got into OSM through the digital humanitarian space. I'm a volunteer "mapster" with The Standby Task Force. We try to map dynamic data in humanitarian crises. We consume and make a lot of use of OSM data in the developing world. Thank you HOT!
David Wyn: Good question! The vision of creating a Welsh language map got me into OSM.
Carl Morris: I am a freelance web developer and a big supporter of free and open source software. I am also a co-founder of Hacio'r Iaith, which is a community of professionals and enthusiasts who enjoy exploring how technology applies to and through the Welsh language.
2. What made you launch openstreetmap.cymru?
Ben: I'm not a Welsh speaker but I was aware that the government has set an ambitious target to double the number of Welsh speakers by 2050 and had been thinking about ways in which open data could support this. Then David had an idea…
DW: I see what you did there…my understanding is that this kind of notion was first floated in GovCampCymru - through which indeed I first met Ben - and so it was already a hot topic and a 'dream' of the Welsh language tech community which I like to think I'm part of; which Carl definitely inhabits.
Carl: Many people use or recognise place names like Abertawe or Treffynnon but might never have seen those used on a web-based map, or indeed any map. Welsh is considered a lesser-resourced language online and mapping is a key area for growth. I hope that we will play a part in reminding other projects, services and companies of the importance of using different languages.
3. What are the unique challenges and pleasures of OpenStreetMap in Welsh? What aspects of the projects should the rest of the world be aware of?
DW: Communicating the project to the widest possible audience whilst still sticking to the guidelines - and spirit - of the #Cymraeg2050 grants is both an unique challenge and a pleasure.
Carl: At the moment we are telling people that it's a draft map because it's still in the process of being built and launched. So far other people have been very understanding of this and enthusiastic about the possibilities!
Securing long-term support for the server is an unresolved issue for us.
We have a series of blog posts detailing other aspects of the project, like technical background.
Ben: I think it's worth saying that we are standing on the shoulders of giants in the community who have previously done work to tag places in Welsh and spin up different versions of Welsh or bi-lingual maps. The community and the volunteers is one of the most powerful things of OSM. Thank you.
4. What is the best way to get involved in OSM Cymru? Any events or meetups planned?
DW: Follow the hashtag #MapioCymru which should signpost any forthcoming events. Also follow http://cardiff.theodi.org/category/post/ (English) or http://cardiff.theodi.org/cy/category/post/ (Welsh)
Carl: Whether or not you can attend events please remember that anybody who enters name:cy tags and other useful data on osm.org is a co-contributor to the project, and we are very grateful for input there.
Ben: I 100% support what Carl says. You do not need to be in Wales to contribute. I'd love to encourage the UK and global community to help us.
5. Any plans to expand the map to include the Welsh speaking communities in Argentina?
Ben: My role on the project currently is to say "that's a brilliant idea but out of scope for now". But personally I'd like to see openstreepmap.cymru become a global render of OSM in Welsh, not just Wales.
DW: No! Although a summer jaunt to South America might be nice.
Carl: I would love to extend the map. We could start closer to home because the Welsh language has many names for places in England and Scotland, and all of them fascinate me.
6. In 2014 OSM celebrated its 10th birthday. Where do you think the project will be in 10 years time, both globally and in Wales specifically?
Ben: I think that in the humanitarian space OSM is already the basic geographic data infrastructure. I'd love to think that it will be that for the globe. In Wales specifically I'd like to think that we can have seamless language-neutral services that can operate globally based on an OSM backbone. The mapping tiles are, for me, not the end of it at all. It's using the data in multiple services that matters. Welsh should be a language people can use across services wherever they are, not just when they are in Wales.
Carl: I am seeing much more pushback against proprietary services, and how they often neglect user freedom, privacy and related rights. These conversations are happening in the mainstream, not just in specialist spaces. I would love to see OSM consolidate its status as a viable alternative and see further adoption by institutions, large and small. I am also looking forward to being surprised by how people use OSM - not everything is predictable!
Many thanks gentlemen. Wonderful to see the openness of OSM making a service like this possible. A great example for smaller language communities around the world. Good luck to you and all the Welsh language OpenStreetMap contributors.
Please let us know if your community would like to be part of our interview series here on our blog. If you are or know of someone we should interview, please get in touch, we're always looking to promote people doing interesting things with open geo data.