Interview: OpenStreetMap in Utah
25 Jun 2022
It's once again time for an edition of our interview series with OpenStreetMap communities around the world. Today we hear from Martijn van Exel all about OpenStreetMap in Utah.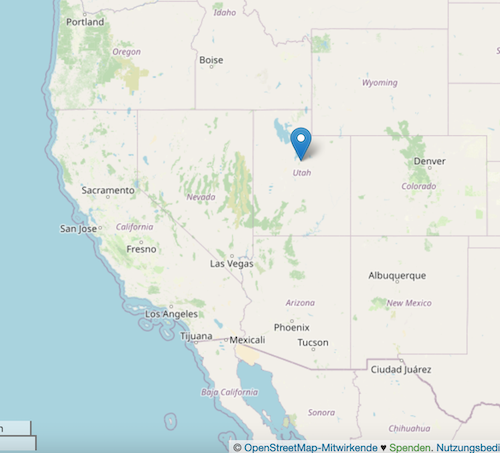 1. Who are you and what do you do? What got you into OpenStreetMap?
My name is Martijn van Exel and I've been involved in OSM for a pretty long time. In fact, I just celebrated my 15th OSM editing anniversary! I made my first edit at a mapping party in Amsterdam, where I lived at the time. I don't remember how I learned about the mapping party, probably some open source usenet group. I do remember thinking: "of course, this makes so much sense - a free and open map that everyone can contribute to!" The tools were rudimentary back then, we had no aerial imagery to trace from, so it was basically just walking and biking the streets of Amsterdam and taking notes. We had to cover every street multiple times to get enough data to reliably map the streets; the handheld GPS units we had were not that great, and the urban canyon effect is real.
I started helping organize more mapping events and helped write a grant proposal that got us money to further build the community and purchase handheld GPS units we would loan. A real light bulb moment for me was attending the State of the Map 2008 in Limerick. Seeing people from all over caring so much about this project was amazing. I helped organize State of the Map 2009 in Amsterdam, where we first saw real interest in OSM from businesses. From then on, I have basically been involved in OSM non-stop.
2. What would you say is the current state of OSM and the OSM community in Utah?
The OSM community in Utah is strong, but also a bit disconnected. We have many active mappers, but many of them just do their thing, mapping solo in their spare time. There's a fair amount of communication online, but I have not met most active mappers in person. In part that is because Utah is large, about the size of Romania, and for the most part sparsely populated. Even the Salt Lake City metro area is large enough that it's hard to get people to get together just because of the travel times involved.
3. What are the unique challenges and pleasures of OpenStreetMap in Utah? What things should the rest of the world be aware of?
Outdoor recreation is huge here: mountain biking, hiking, skiing camping, off-roading, fishing.. Whenever I go on a camping trip I download offline OSM maps on the Gaia GPS app, and I also check OSM in the area where I'm headed. More often than not I will find that another local mapper has updated trails, natural features, access restrictions—all the stuff that is important for an outdoors adventure that you often won't find on any other map. Many people from out of state and abroad come to Utah to visit National Parks such as Arches, Zion and Bryce Canyon. If you are planning a visit to one of these places or any of the other awesome places of natural beauty here, be sure to bring OSM maps, and help improve them while you're here! Be sure to bring an app that supports offline maps: even in some of the National Parks, there is no cell service available.
4. What is the best way to get involved? Is there a regular meet-up? A mailing list? Where does the community meet online?
I have been organizing monthly meetups off and on since 2011, when I moved here. Currently they happen on the first Wednesday of the month. I announce them on Meetup and on OSMCal. I try to reach out to new and active mappers via OSM messages to get more people to join. Those who attend appreciate the sense of community that the meetups bring. The University of Utah is home to a YouthMappers chapter, but I haven't been in touch with them. Online, we have a Slack channel #local-utah on the OpenStreetMap US Slack. If you're not a member of this Slack, you can invite yourself here.
5. What steps could the global OpenStreetMap community take to help support OSM in Utah and the western US in general?
I would love it if it were easier to get in touch with local mappers. I built a tool, Meet Your Mappers, that helps a little bit by listing the most active mappers in your area. I am looking forward to seeing Microcosms, an extension to the OSM web site that lets you create mapper groups, become part of osm.org. If you haven't heard about it, check out his presentation at SOTM US earlier this year.
At the national level, OpenStreetMap US has been doing an absolutely amazing job growing the OSM community nationwide. They host regular online Mappy Hours, support local groups with advice and Meetup membership costs, and organize bigger events that really create a sense of community. During COVID, we had the online Mapping USA events, and last spring our part of the United States was lucky to host the first in-person SOTM US since 2019 in Tucson, Arizona. The local team as well as OSM US did a great job making this event fun and successful.
6. This year OSM celebrates its 18th birthday, so we are well into the "teenager" stage of the project. But what will it look like when it "grows up"? Where do you think the project will be in 10 years time, both globally and in Utah specifically?
10 years is a long time to look ahead. I would argue that OSM is not quite in teenager territory yet. Perhaps more in the "Wonder Years" stage. OSM is only starting to come to terms with the fact that we're a major player in the maps space now. The rapid growth and adoption of OSM has caused some growing pains. We haven't really learned what it means to be a truly global and diverse community yet. We haven't fully embraced the opportunities that growing use of and contributions to OSM data by large organizations can bring. We must face these challenges, and in 10 years we surely will have, but it will require strong vision and leadership.
Meanwhile here in Utah, we will just keep working on the map and collaborating with local and state GIS agencies to improve OSM and make it more useful. Recently, I collaborated with the Utah state GIS agency to publish an OSM-based places dataset that complements the State's own GIS data. It is already used by 911 services to find people in emergencies more quickly. This is the kind of stuff that keeps me want to work on OSM. More than anything though, it's the people. I have made many friends in this community. I hope to see them all this summer in Firenze at SOTM!
Thank you, Martijn - for your efforts to grow OpenStreetMap in Utah and worldwide. I also had the pleasure of attending SotM in Limerick many years ago, and it got me very motivated about OpenStreetMap. How far we've come since then! Thanks for the insights into the OSM Utah scene and keep up the great work.
Happy mapping,
Please let us know if your community would like to be part of our interview series here on our blog. If you are or know of someone we should interview, please get in touch, we're always looking to promote people doing interesting things with open geo data.