Interview: OpenStreetMap in Nigeria, Ayo Akinseye
17 Jun 2019
Our OpenStreetMap interview series continues with a chat with Ayodeji Akinseye, who tells us about the OpenStreetMap community in Nigeria.
1. Who are you and what do you do? What got you into OpenStreetMap?
My name is Ayodeji Akinseye. I hold a Masters in GIS and been working in same field for over 20 years in Africa. I read about Openstreetmap in 2015. I have been contributing to the map since then, both by editing and also as an advocate. I also have the twitter handle @OSMNigeria
2. What would you say is the current state of OSM and the OSM community in Nigeria?
The OSM community in Nigeria is still growing. There are little clusters across the country contributing either as individuals or small groups. There have been some efforts in the last couple of years to harmonise all these into one. Nigerian data on OSM still has a long way to go, but there are also projects that contribute quite a lot of data due to the nature of their funding. For example e-Health Nigeria has contributed enormous amounts of data over the years.
Part of my efforts to increase awareness and the mapping lead to hosting mapping parties in 2017, and plan to resume later in 2019.
Here's a photo of a mapping party in Lagos, the capital of Nigeria: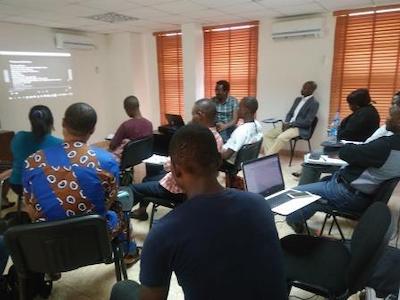 3. What are the unique challenges and pleasures of OpenStreetMap in Nigeria? What aspects of the projects should the rest of the world be aware of?
The major challenge is the developing nature of the Nigerian economy. Developing countries do not have a volunteer mentality, since too many people live in poverty, and believe they need to get paid for any kind of work. Infrastructure deficiencies (such as electricity) is also an issue. For example I always have a generator running when I host the mapping parties so we don't have any electricity interruptions during the event.
Another challenging area is government, and by extension education. Education is largely funded by government. We are working on getting universities, state and local governments here in Nigeria to adopt OSM / Open Source concepts. Once these institutions adopt, the user base, and ultimately the data on Nigeria will rapidly improve.
4. What is the best way to get involved? Where does the community meet - online and off.
Awareness is an ongoing thing so making people aware it exists will drive further engagement.
There is a whatsapp group that contains people from across the country, though no meetings that combine all active users have held yet. We are trying to hold one this year in Lagos.
A mapping party in Ibadan: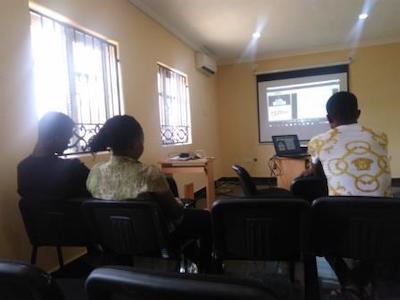 5. What steps could the global OpenStreetMap community take to help support OSM in Nigeria?
Two main ways I think the global community can support are awareness and sponsorship.
Mapathons and Mapping parties in Nigeria cost quite a bit to host due to infrastructural deficiencies. Funding such activities is a major way the global community can help. Not only will edits be done, the community will also grow as people invite their friends.
6. This August OSM will celebrated its 15th birthday, so we are well into the "teenager" stage of the project. But what will it look likes when it "grows up"? Where do you think the project will be in 10 years time, both globally and in Nigeria specifically?
Globally I think OSM will become the de-facto map for all online purposes. The adoption in the western world has shown that OSM can rival, and in many cases out-perform Google Maps. In the next 10 years, the rest of the world (such as Nigeria) will catch up in terms of data quality and contributors.
Thank you, Ayodeji! It is great to see the community in Nigeria emerging. Good luck and happy mapping!
Anyone who would like to stay informed should follow @OSMNigeria on twitter.
happy mapping,
Please let us know if your community would like to be part of our interview series here on our blog. If you are or know of someone we should interview, please get in touch, we're always looking to promote people doing interesting things with open geo data.