Interview: OpenStreetMap in Guinea
9 Feb 2022
In today's edition of our interview series with OpenStreetMap communities around the world, we turn our attention to the West African country of Guinea. We're fortunate to speak with local community member Abdoullah ibn Ismaïl about his experiences.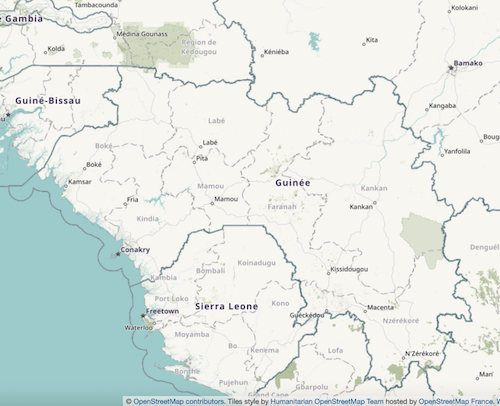 1. Who are you and what do you do? What got you into OpenStreetMap?
I'm Abdoul, a Co-Founder and Executive Director of FreeLocalMappers which is a local Guinean NGO involved in bringing digital mapping and Open Data to bear on sustainable and inclusive development of the country. I discovered OSM during a data collection activity using OsmAnd and KoboCollect in 2016. I was then actually looking for a good way to contribute to the wellbeing of my community and the development of my country. Since then, I fell in love with OSM and never stopped investing time, energy and resources into it.
2. What would you say is the current state of OSM and the OSM community in Guinea?
Despite the fact that there have been 3 OSM communities since 2015 in our country, OSM is unfortunately not that much known yet. However, we've so far been able to map many cities. We got many volunteers that are students and professionals and are trying to get all sectors involved in producing data through OSM and using the already existing data.
3. What are the unique challenges and pleasures of OpenStreetMap in Guinea? What things should the rest of the world be aware of?
We have a lot of challenges doing what we do and what we want to achieve with OSM. The 2 main challenges are the lack of leadership and the lack of resources.
For the first one, most of the OSM community leaders work with several organizations and do not have enough time for promoting OSM. Furthermore, the volunteers leave us as soon as they get new opportunities.
Also, since most of the volunteers are students, we have difficulties finding tools such as smartphones or laptops to map or collect data while many among them don't have it on their own.
We also have difficulties finding funds to run regular activities.
4. What is the best way to get involved? Is there a regular meet-up? A mailing list? Where does the community meet online?
We have a mailing list and a shared drive on google which we use to share information or documents. We don't have regular meet-ups. We usually meet whenever we have the possibility to do so because of the challenges I said before.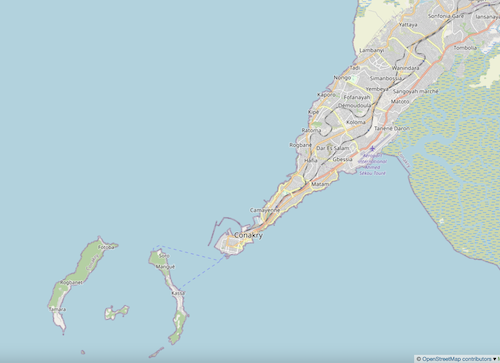 The well-mapped capital city of Guinea: Conakry.
5. What steps could the global OpenStreetMap community take to help support OSM in Guinea and West Africa in general?
A great support will be the knowledge transfer. Something else that may be useful is sharing the success stories and the best practices because there are out there many other OSM communities that faced our current challenges and found a way to overcome them.
6. This year OSM celebrated its 17th birthday, so we are well into the "teenager" stage of the project. But what will it look like when it "grows up"? Where do you think the project will be in 10 years time, both globally and in Guinea specifically?
Currently we can see that a lot of global companies such as Facebook, Google or Apple use OSM data. So, for me, in 10 years the project will be at the forefront of geospatial data and will be a cause of perpetuating the Openness of data.
OSM will be the first thing in collective minds when looking for data.
Thank you, Abdoul. Congrats to you and your colleagues for persevering. Keep mapping! Anyone who is interested in getting in touch with Abdoul and learning more about the locl mapping scene can do so via twitter where he is @Ismaeldiarria and the FreeLocalMappers project can be found at @FreeLMappers.
Happy mapping,
Please let us know if your community would like to be part of our interview series here on our blog. If you are or know of someone we should interview, please get in touch, we're always looking to promote people doing interesting things with open geo data.