Interview: OpenStreetMap in Bexhill-on-Sea, England
21 May 2020
Finally!!! After a shamefully long hiatus our long-running OpenStreetMap interview series returns. Today it's our pleasure to talk with Alexis Markwick, the man behind Bexhill-OSM, a service that uses OSM to help expose the local history of Bexhill-on-Sea, England.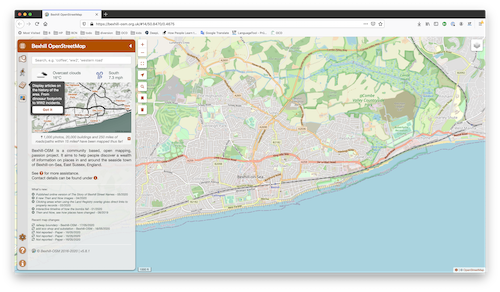 1. Who are you and what do you do? What got you into OpenStreetMap?
Hello, I'm Alexis Markwick - developer of Bexhill-OSM, an open community map started in 2016, created with OpenStreetMap data. I live in a quaint seaside town on the south coast of England, called Bexhill-on-Sea. It prides itself on its independent shops, historical sites, architecture, long beaches and diverse countryside, all of which really deserves promoting. Having used OpenStreetMap to plan personal cycling tours, I found it was an ideal tool to start archiving the town as it stands today.
2. Your site attempts to make history transparent, by overlying old maps of your town onto the current OSM map. Tell us a bit about the project, your motivations, and who uses the service?
Bexhill-OSM turns OpenStreetMap data into an accessible and interactive website for locals and visitors to explore in great detail. As well as fully surveying our 15 square miles, I've taken over 1,100 photos (all in the public domain), created various walking and history tours, and a number of historical overlays.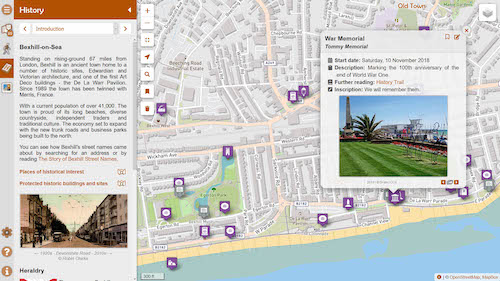 Much of the history side of the project has been done with help from the local museum and community groups. We gathering information on subjects like dinosaur fossils, abandoned railways and Second World War incidents, then project them into layers to be shown on the map.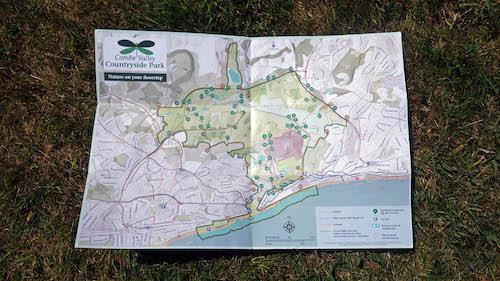 As a result of this project, I've been involved with the creation of information boards, two local parks have their maps made based on OSM data, and we have installed an offline version on a touch-screen kiosk inside Bexhill Museum.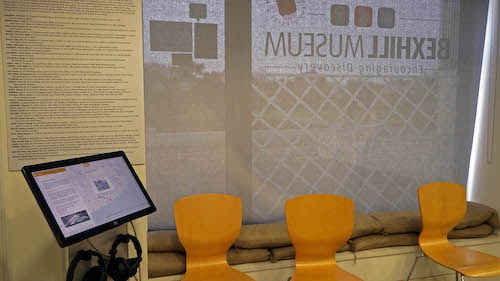 3. What are the unique challenges and pleasures of OpenStreetMap in Bexhill specifically, and the challenges of making history visible. What things should the rest of the world be aware of?
Like many places in the UK at the moment, Bexhill is going through some big changes. With community help (often by people just leaving notes) we can update a shop or add a new road almost instantly, and often weeks before any commercial service. Using OSM's 'Attic Data' is a great record of how the map has evolved too.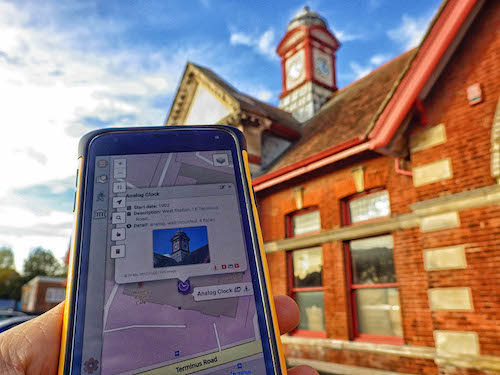 One of my favourite aspects of the project is finding ways to show how the town changed over the years, whether it be by stitching together aerial slides to form a new overlay, or comparing an old photo with what exists today. It's given me a new perspective on the town, especially with people often sharing their own stories and memories of these bygone places.
4. What is the best way to get involved? Is there a regular meet-up? A mailing list? Where does the community meet online?
If anyone is interested in learning more about the project and OpenStreetMap, I give talks at public events or to local community groups. You can find these events on my social media, which is on the website, or just simply drop me an email if you have any questions. Bexhill-OSM is freely available on GitHub for anyone to adapt however they wish.
5. What steps could the global OpenStreetMap community take to help support OSM in communities like yours?
The OSM community is doing a sterling job - servers, software development, stylesheets, the Wiki, newsletters, events - without these we wouldn't have a map. I hope we can continue to promote the benefits of OSM to our local communities, businesses and governments - the latter may release more open data for us to use (e.g. postcodes!).
6. Last year OSM celebrated its 15th birthday, so we are well into the "teenager" stage of the project. But what will it look likes when it "grows up"? Where do you think the project will be in 10 years time, both globally, in Bexhill specifically?
I have some exciting things lined up for Bexhill-OSM. A push for it to be used as an education tool, town maps for tourist information, and street level panoramas are just some examples I'm working on. There's thought that some mapping will become automated and machine-generated in the future, but there will always be a human involvement, especially when it comes putting in the smaller details and seeking out those hidden historical gems.
Thanks, Alexis. Wonderful to see open data being used in this way to provide such a great resource for your community. Congrats and keep up the good work!
Anyone who would like to stay informed should follow @BexhillOSM on Twitter.
Happy mapping,
Please let us know if your community would like to be part of our interview series here on our blog. If you are or know of someone we should interview, please get in touch, we're always looking to promote people doing interesting things with open geo data.