Interview: OpenStreetMap in Albania
16 Aug 2018
Last week we had the chance to hear from the Galician OpenStreetMap community, this week our interview series with OpenStreetMap communities around the world continues with a chat with the OpenStreetMap Albania community.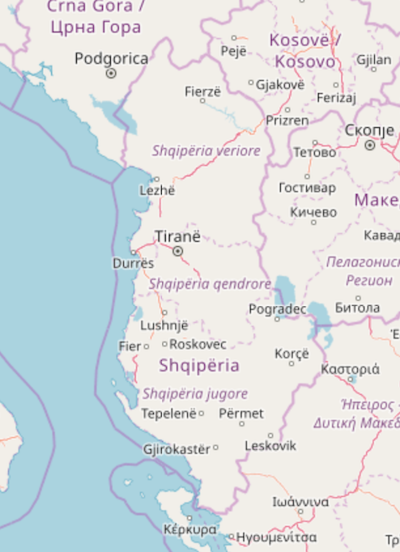 1. Who are you and what do you do? What got you into OpenStreetMap?
Sidorela - I am Sidorela (which is also my name on OpenStreetMap). I'm a free and open source software activist and member of Open Labs Hackerspace/en/ in Tirana Albania. I started to edit on OSM two years ago after attending a mapathon hosted at Open Labs. I contribute as a mapper, community advocate and sometime translating materials into Albanian.
Amanti- I am Amanti and my osm nickname is diskmanti. I started to contribute to OSM a couple of years back. I am a member of OpenLabs in Tirana and I am also the organizer of the local MapTime chapter here.
Redon - My name is Redon (aka Leeturtle on OpenStreetMap). I created my account on 2012 and started advocating for the project, but started actively being involved in editing almost on a daily basis in 2016. One of the people that inspired me edit more was (and still is) my Friend John Sturdy, why inspired the local community a couple of years ago when he visited our hackerspace.
2. What would you say is the current state of OSM and the OSM community in Albania?
Amanti - I would say that the current state of OSM in Albania can be described as a small one. The community is not very large, but we are actively trying to attract more contributors to OSM through small events mainly at the local hackerspace. Also most of the active contributing members are very active and knowledgeable.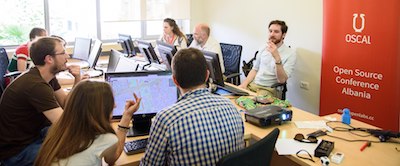 3. What are the unique challenges and pleasures of OpenStreetMap in Albania? What aspects of the projects should the rest of the world be aware of?
Amanti - For me the best part of contributing to OSM in Albania is the possibility to add particular data, like transit data, that help the community in general. Also I love to teach new mappers about OSM.
Redon - Every time there are potential contributors joining one of our Maptime or other OSM events it makes me and other OSM contributors really happy. On a personal level I enjoy editing points of interest through CityZen mobile app, a project I'm heavily involved the last year.
Sidorela - What I like the most about the community in Albania is the passion people have for editing, as it is not part of their daily work. This makes me ask myself the question: Why do they map? The answer I find in one of the community latest works, the geoportal with the data from municipality. We did that to have a better map for our city, a map which can be used from many people and from different projects, which can affect our daily routine.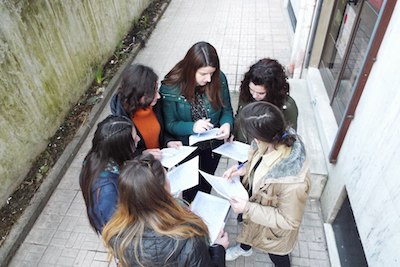 4. What is the best way to get involved? Are there regular meetups, or a place the community chats online?
Amanti - I believe the best way to get involved is to participate to MapTime or ask for help at the OpenLabs forum. This is, in our opinion, a combination of in-person and online community building process. Also we have an online chat where more informal talks are held, which is a good first step for newcomers.
5. What steps could the global OpenStreetMap community take to help support OSM in Albania?
Having a dedicated program for small communities would be really helpful. This could be something like the Fedora Ambassadors and/or Mozilla Reps program where local contributors are recognized as main contact points from the community. These contributors can also apply for small budget support or swag, which are important elements that facilitate community activities.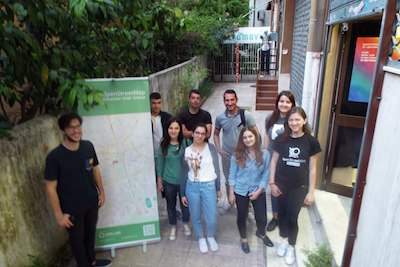 6. In a few weeks OSM will celebrated its 14th birthday, so we are well into the "teenager" stage of the project. But what will it look likes when it "grows up"? Where do you think the project will be in 10 years time, both globally and in Albania specifically?
Redon - at a local level we will hopefully have the national maps agency release their material in a license that can benefit OSM and also all the public funded institutions use OSM and release their GIS data in the same license that OSM does. We will also work hard to have a bigger community with active contributors not only in Tirana, but in other cities as well. At a global level community growth and widespread usage of OSM at every level of digital infrastructure are quite important factors that hopefully will be a reality in the years to come.
Sidorela - I wanted to add that in 10 years we hope to become a chapter and also hosts for at least once for State of the Map yearly conference.
Thanks very much to all of you! I agree OSM could learn from how other open-source communities support their members in smaller countries.
Anyone interested in learning more should follow @Osm_Albania on twitter.
Please let us know if your community would like to be part of our interview series here on our blog. If you are or know of someone we should interview, please get in touch, we're always looking to promote people doing interesting things with open geo data.