Interview: Russ Garrett of OpenInfraMap
30 Oct 2018
While ususally in our OpenStreetMap interview series we talk with OSM communities, large and small, around the world, today we turn our focus to one of the many thematic mapping projects: OpenInfraMap. We had the chance to speak with Russ Garrett, who leads the project.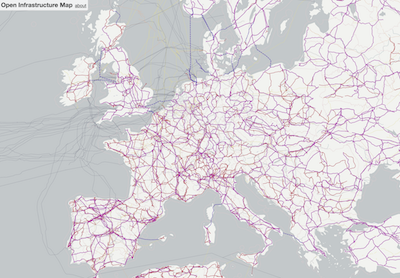 1. Who are you and what do you do? What got you into OpenStreetMap?
I'm Russ Garrett - my day job is in system operations/architecture, but I have way too many side projects. I recall running into Steve Coast in a pub in 2005 or so and being rather sceptical about his plans to create an open map! I've apparently been an OSM editor - with varying degrees of activity - since 2006, which seems like a long time now.
2. What is OpenInfraMap and why did you create it? Who uses it?
OpenInfraMap is a custom view of OpenStreetMap highlighting infrastructure which is either invisible or not obvious on the default OSM rendering. The most significant aspect is power networks - there's a surprisingly large amount of data on power objects in OSM - but OpenInfraMap also highlights telecom, petroleum, and water infrastructure. I've always been interested in infrastructure (and mapping), and OpenInfraMap is a side-project to try and explore that.
It's difficult to map and verify objects on OSM if they don't appear on a map, so OpenInfraMap is handy if you're working on mapping this stuff. I've had a few enquiries from researchers who want to use power data on OSM for research purposes so it seems there are uses for the data beyond mere curiosity.
3. What are the unique challenges and pleasures of mapping infrastructure in OpenStreetMap? What aspects of the projects should the rest of the world be aware of?
Although a lot of this infrastructure is obvious, some is hidden underground and is impossible to survey accurately, or at all - opinions vary as to whether this deserves to be mapped in OSM at all. However, sometimes you can find clues by surveying in person, and I've had a bit of success recently locating newly-buried cables and pipelines from the Sentinel-2 satellite imagery, which has very fast revisit times.
4. What is the best way for people to get involved in the project?
There's quite a lot of guidance on the OSM wiki about tagging power and telecoms. I've also written a UK-specific guide to identifying power infrastructure.
5. What steps could the global OpenStreetMap community take to help support the mapping of infrastructure?
Proper tagging of power infrastructure while surveying on the ground is always useful, even if you don't know much about it, because once it shows up on OpenInfraMap it's much more obvious to remote mappers who can improve on the tagging.
6. This summer OSM will celebrated its 14th birthday, so we are well into the "teenager" stage of the project. But what will it look likes when it "grows up"? Where do you think the project will be in 10 years time, both globally and in the specific case of mapping infrastructure?
I'm interested in seeing the effect of the growth of open mapping data and how the tension in the OSM community about imports plays out. I think imports are a good thing, and OSM should embrace them and focus on better tooling to deal with keeping external data up to date.
Thanks Russ, for sharing the story of OpenInfraMap!
Anyone interested in learning more should follow @openinframap on twitter. I'm also delighted to report that Russ will be speaking about the project at the first London #geomob event of 2019 on the evening of the 16th of January. Details of the event will be up on the #geomob site in a few weeks. I hope you can join us.
Please let us know if your community would like to be part of our interview series here on our blog. If you are or know of someone we should interview, please get in touch, we're always looking to promote people doing interesting things with open geo data.