Use the OpenCage Geocoding API in Excel
22 Mar 2018
While most of our users are experienced software developers, we're also often approached by people who don't have programming skills. As such I am delighted to announce that we now have an Excel Add-in so that users can quickly geocode in Microsoft Excel.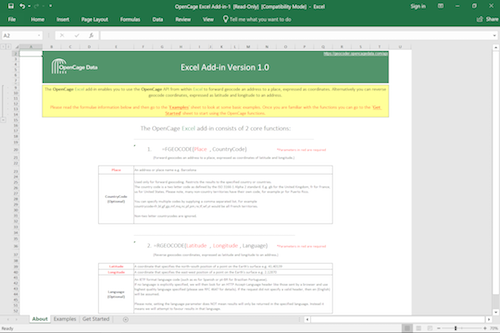 All of the details are on the newly created Excel geocoding tutorial page that you can find on our code libraries page.
The OpenCage Add-in was written for us by Belal Uddin. Many thanks, Belal!
We're always on the hunt for new ways to make it easier for people to use our API. If you're interested in writing a wrapper library for the API in a programming language or software package that we don't yet have, please get in touch. We would love to work with you.
One closing note, if Excel isn't your cup of tea, we also recently significantly improved our Google sheets geocoding plugin.
Happy geocoding,