No longer accepting temporary email signups
24 Jan 2019
Hi everyone,
we pride ourselves on running a generous service.
We have a time-unlimited free trial with no credit card required at sign up - because we want as many people as possible to try our geocoding service and see the benefits of open data. Then, once someone has tested and decided our service meets their needs, they can become a customer. Our pricing is reasonable, especially the fact that we don't enforce "hard" limits. Our customers will never face an unexpected bill due to a surge in usage. We have always believed that we do not win by squeezing our clients in the short term, we instead win by being a stable, long-term partner to our customers. Because we build our service on open data and open source software, it's our pleasure to give time, money, and support back to those communities (learn more). Finally, we put a deep emphasis on the privacy of the users of our service.
In short, we try to build and continually improve the service we ourselves would want to use and would happily become a customer of.
Because of all this, you can hopefully understand that it is frustrating when people try to abuse our service by signing up for multiple free trial accounts to avoid becoming a customer. This has unfortunately become more common over the last few months. As a result, since last week we can no longer accept sign-ups from temporary email services. Users of such services had a high propensity towards abuse. Since last week new signups get the following message when trying to register with such an email address.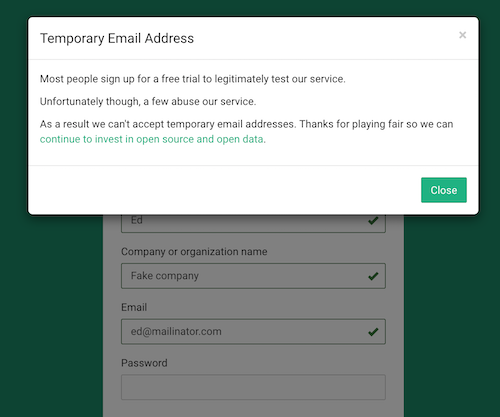 No doubt some of you reading this will ask, "sure, but how is such a temporary email address any different than an anonymous web email address"? Well, rest assured this is just one of many small steps we have taken (been forced to take) to crack down on abuse. These range in severity from suspending accounts all the way up to return false geocoding results (rest assured we don't take such steps lightly, or without first warning the abuser).
Let me close by saying a big thank you to the vast majority of our users who use our service legitimately. Thank you!
Happy geocoding to all of you,