Interview: Steven Feldman of Mappery.org
8 Feb 2019
Over a month into the year, and we haven't yet had a new entry in our interview series with interesting people from the world of open data or geoinnovation!
To rectify that situation I recently has the chance to speak with long-time friend of OpenCage, Steven Feldman. Steven has been involved in too many interesting geo project to count, but today we look at his newest effort - Mappery.org - before chatting about some of his OSM related projects. Anyone looking to learn even more about Steven can check out his work site or read his GeoHipster interview.
Here's a picture of Steven at last week's #geomobBCN in Barcelona
We're setting up for #geomobBCN - reminder we're on the first floor of @Coworkidea pic.twitter.com/ffKb5C12AK

— geomob (@geomob) 30. Januar 2019
1. Steven, welcome. What is Mappery.org?
Mappery is a side project for me and my pal Ken Field. The idea is to collect and share pictures of Maps in the Wild. So what is a Map in the Wild, you are going to ask? It's a map in a real life context, a sign, a poster, an object, perhaps quirky, perhaps unexpected. What it isn't is a screen grab from a web site, the output from a GIS or similar. Context is everything and the more bizarre the better.
2. Why did you build it? What's the motivation?
Ken and I were on safari in Tanzania, on our way to FOSS4G in Dar es Salaam and as we left the Serengeti Nature Reserve and entered the Ngorngoro wilderness we saw this large obelisk with a map of the wilderness conservation area - nothing as far as the eye can see just this map! Ken then proceeded to identify what version of ArcGIS had been used to make the map (yup he is sufficient of a carto geek to be able to spot that!).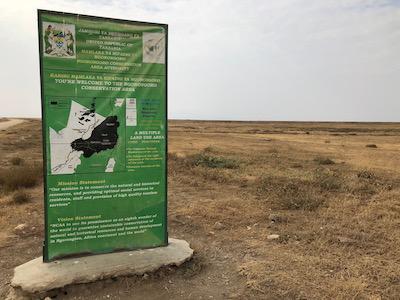 As we were trundling through the wilderness, the germ of an idea started to form. Over the rest of our trip we spotted several more pieces of map art and by the end of the trip I was hooked on setting up a web site for sharing map pics.
What's the motivation? We love maps, we love odd stuff and we know a few people who share our interests and perhaps our sense of humour. This is truly a FFS project (For Fun's Sake, not what you were thinking).
People ask why the elephant logo? Well, while we were on safari we saw a lot (and I mean a LOT) of magnificent elephants very close up. Our guide pointed out to us that the left ear of an African elephant (right when you are facing it) looks a lot like the outline of the African continent while the left ear of an Indian elephant looks quite like the outline of India. There is no other animal whose shape corresponds to its home continent or country. Ken turned one of our elephant photos into our logo.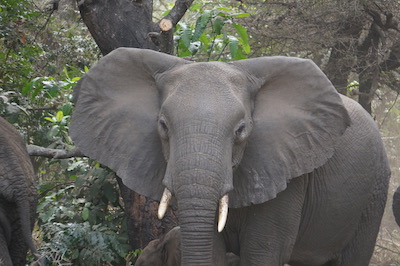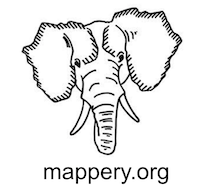 3. What's the best way for people to get involved in the project?
You can just browse through our photos on mappery.org

You can submit a photo by mailing it to maps at mappery dot org, please give us some context, where you took the pic, why you like it and any other background info.

You can follow us on twitter at @MapsintheWild and you can send us a pic via twitter if you prefer but please be certain that you have permission to do so (i.e. don't retweet someone else's pic to us without their permission to publish)

If you don't do twitter (yes, I believe there are people who like maps and avoid twitter) then you can sign up for our weekly mailing list and you will get 2 or 3 Maps in the Wild in your inbox each week, no ads and no other bull.
4. Any initial learnings or conclusions you've gained from operating Mappery?
What we have learnt so far:
Quite a lot of people seem to like the idea of sharing Maps in the Wild. We started off going through our own photo collections and to be honest I was a little worried that we might run out but now we are getting several submissions a week and we have a publication schedule running through to June.

When we publish a pic it often prompts a follow up submission a "what about this one"

It's a little early to start identifying the most popular themes to submissions, but clothing, tattoos and artwork in hotels and bars all seem to be up there.

We created a Map of Maps to plot where our submissions have come from. Currently it is Euro and North American centric but our reach is spreading. Incidentally a word of thanks to the guys behind the Novo-Map plugin for WordPress which has made it really easy to build and maintain this map.
5. Moving on to more serious topics, a few years ago you worked on the OSMGB project. Tell us a bit about that project and what you learned.
OSMGB was a project that I helped to kick off at the Nottingham Geospatial Institute when I was an external lecturer at the University. We managed to get funding and sponsorship from 1Spatial to apply their data quality technology (which is used by Ordnance Survey and other National Mapping Agencies) to an OSM repository that we created.
The idea was to take a daily build of OSM, identify the changes, run it through the 1Spatial rules engine and generate an enhanced version of OSM - that part was a bit clunky but it worked.
The second part of the project was to try and find a way to feedback to the OSM community the potential improvements (eg cleaned geometry, questionable tagging) without just pushing them back onto the main OSM database. That didn't really gain any traction, I don't know whether we failed in our communications with the local OSM community or whether our "improvements" weren't of interest. That said I think there are much better quality assessment tools in the OSM community now than there were when we were running the OSMUK project.
The final part of the project was the most disappointing. We had funding to run the workflows for about 15 months but to keep the project going and possibly take it further (eg creating a fusion dataset of OSM and OS OpenData) we needed to find a financing model that was sustainable. We had lots of conversations with people in the public sector (Local Government and Central) who were keen on an OSM service (we offered tiles and a WMS/WFS) but when we asked what such a service might be worth it went very silent.
Even free costs money and getting people to pay for free can be a tough job.
6. OSMGB was just one of the many geo related projects you've been involved in over the years: running and selling a business, investing in and advising others, organizing FOSS4G, speaking at industry events, sponsoring #geomob (Thanks!), commentating on the scene via your blog, etc. As an elder statesman of the UK geo scene, you've personally experienced and seen a lot of change in the industry. What's your advice for anyone starting their geo career today?
That's a wide ranging question and probably my answer would be too long for this Q&A! Also I am going to be talking at the next #geomob on some off the factors that influence my decisions to invest in geo-startups so I will just offer this advice - there is little that is uniquely new, most developments are incremental and build on others' ideas so before you try to invent the next big thing take a good look at what is already out there.
7. Final question, again from the perspective of someone who can take the "long view" of things. In 2019 OSM will celebrated its 15th birthday, so we are well into the "teenager" stage of the project. But what will it look likes when it "grows up"? Where do you think the project will be in 10 years time, both globally and in UK specifically?
OSM continues to amaze me, almost every time I have made a prediction about what might happen I have been proven completely wrong (fortunately most of those predictions were not written down).
I like your "teenager" analogy as I think there is some evidence of tensions within the community that those of us who have had teenage kids will recognise.
There is tension between the so called "hobby" mappers who are unquestionably the core of the project and the professional papers who may be working for a large organisation.

There is mistrust on the part of some of the community towards the businesses that have evolved to grow, enhance and make use of OSM

The relationship between OSM and its spin off (sibling, whatever) HOT is cranky at best and at times quite aggressive. As a long term member and supporter of OSMF the achievements of HOT are one of the things that I am most proud of and represent the very best of OSM in my opinion but some of the mapping community do not see it that way. I wonder whether it is because HOT has been pretty successful in raising funding and is run as an NGO?

You only have to follow the OSMF mailing list, particularly in the run up to the annual board elections to see how these tensions can bubble over (not helped by the potential for misunderstanding as the language of the list is English and many find themselves obliged to communicate in their second language)
Where will the project be in 10 years time? Well many of the early mappers may well have moved on and a new cadre of mappers may have found a way to bridge the growing gap between hobby and professional mappers. If they don't I can imagine a scenario where there will have been a fork in the OSM project and those who want a more professional approach to creating, maintaining and quality controlling a crowd sourced map will have gone in a slightly different direction. That needn't be a negative development and could allow both hobby and professional contributors to build 2 open maps that could be shared, fused and used by an even wider audience than today.
Many thanks, Steven! For taking the time to chat with us, but also for all your work on behalf of open source geo software, open data, and the UK geo community. It is appreciated.
As a business with a tradition of supporting HOT financially every year, I am also utterly baffled by the tension between some members of the community and HOT. Similarly, a fork of OSM is not something I want to imagine. Happily cooler heads have prevailed until now, and I remain optimistic that that will be the case far into the future.
Forward!