OpenStreetMap Interview: Zsolt Ero of MapHub
20 Apr 2018
Next up in our regular interview series with members of the OpenStreetMap community is a discussion with Zsolt Ero, the founder of MapHub, a Google My Maps alternative, based on OpenStreetMap data.
Zsolt, thank you for taking the time to share your thoughts with us.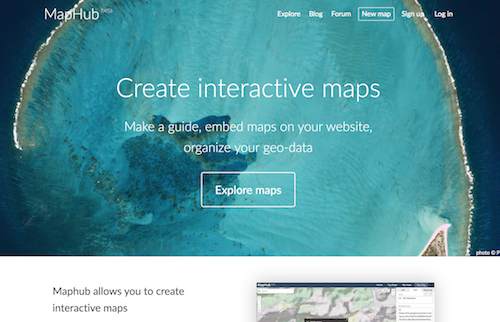 1. Who are you and what do you do? What got you into mapping and OpenStreetMap?
I am Zsolt Ero, a full stack developer who loves maps and augmented reality. These days I'm freelancing part-time and working on MapHub and my augmented reality projects as much as I can. What got me into mapping and OpenStreetMap was my love for hiking, and the fact how OpenStreetMap quickly offered more detailed map coverage in the middle-of-nowhere, where you happen to be surprisingly often if you are a paraglider pilot!
2. What is MapHub? Why did you build it?
MapHub is a web app which aims to be an alternative for Google MyMaps, based on OpenStreetMap data. It's main use case is creating and embedding simple interactive maps. I built it because there was no tool for my own need and I believed if I can solve my own problem then there are possibly others who are looking for the same solution.
3. You recently had a big re-launch, which included adding OpenCage as a search provider in the maps. Tell us a bit about the new features
When I started MapHub, I thought I'd need to make something complicated, a "platform" I'd guess. Native mobile clients, a website with social features, an full-grown API, integrated blog, etc. I even started writing my own search backend, which I "temporarily" abandoned and just used the old MapZen service, then OpenCage geocoder.
Looking back, it seems naïve how many things I wanted to do, not realising that I cannot provide high quality experience if I offer so much. Even more important was the feedback from users: not a single user has asked for these platform-y bits, yet all of them asked for the very same core features: image uploading, feature grouping and reordering, filtering and collaboration. I'm working on implementing these features and getting out of beta right now.
4. Services like MapHub are critical to making OpenStreetMap better known with consumers. What sort of feedback do you get? What kind of questions do users have?
What surprised me the most is that I've received nothing but very positive feedback. Before I launched I've read horror stories about what happens if you put an email link on your website or if you make a public forum, and to my biggest surprise none of that followed. Every single feedback I received started with thanking for making this service, and recently also thanking me for not using Google.
The Google/OpenStreetMap side is especially interesting: I have a feeling that users are starting to value privacy and look for decentralized services as an alternative to Facebook and Google. They don't understand what OSM is, but are happy if simple apps like MapHub allow them to use OSM.
I'd actually like to take privacy one step further: I'd like to offer the full MapHub web app as an on-premises, self-hosted version for businesses, in a single Docker image. If someone is interested in a pilot program for this, feel free to email me.
5. What steps could the global OpenStreetMap community take to better help consumer services like MapHub?
I believe the biggest problem with OSM is how after 10 years it's still clinging to the idea that all OSM needs to offer is a database dump. Just imagine if all Wikipedia would offer was an SQL dump and there would be half a dozen commercial "Wikipedias", all with a different user interface, all displaying more or less the same data.
I believe OSM should settle on a vector tile schema (or embrace OpenMapTiles) and offer both free hosting and downloadable vector tiles in MVT format. A full planet MVT in a simple ZIP file is perfectly manageable on modern Linux filesystems (350 million static files), and can be hosted on $25 servers.
Now I understand this is a sensitive question, as the biggest commercial contributors to OSM are exactly the companies who offer these services today. Yet, I think officially embracing MVT tiles could actually benefit these companies, as they could offer premium features like satellite maps or custom styles, with a simple change of a URL.
6. In 2014 OSM celebrated its 10th birthday. Where do you think the project will be in 10 years time?
That's an interesting question. Personally I think it'll mostly look like today, which is both good and bad. Good, as there is a whole ecosystem of tooling hard-coded to today's specification and this ecosystem needs to work, and many open source projects lack the resources to migrate to a possibly new OSM system.
Bad, as it already starts to feel like a Windows XP situation, which while working reliably is clearly not the future. Can anyone imagine self-driving cars using today's OSM?
Right now, it already takes a lot of effort to combine and process multiple open data sources together and I believe in the future this complexity will continue to grow. This can possibly result in a monopoly like situation, even with open data.
Thanks Zsolt. There's a lot of food for thought in your answers. Thanks for using OpenCage in your service, but above all many thanks for your work in helping make OSM and open data generally known and used by the non-geo community.
Good luck with the MapHub relaunch.
Please let us know if your community would like to be part of our interview series here on our blog. If you are or know of someone we should interview, please get in touch, we're always looking to promote people doing interesting things with open geo data.