Geotrivia - February 2023: alliterative neighbors
17 Feb 2023
Hi everyone,
welcome to the February 2023 edition of #fridaygeotrivia!
Traditionally played on the final Friday of month we run a social media geotrivia contest. Due to some unavoidable travel, this month we had to push back by a week, and played on Friday, the 3rd of March, at 17:00 Berlin time, 4pm London time, 11am New York time. See bwlow for how to play.
The February 2023 geotrivia question:
Name countries that share a land border and whose common names start with the same first letter.
An example is Iraq and Iran: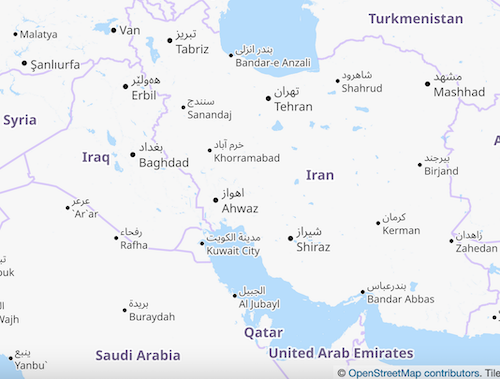 Remember: to get the points you need the #fridaygeotrivia hashtag AND the emoji flags of the countries. And only one answer (pair of countries) per response.
Prizes
#fridaygeotrivia is a game with two prizes:
the sheer joy of geographic knowledge and pedantry.

the bragging rights of getting the answer first.
The #fridaygeotrivia Mastodon thread:
The winner
Congrats to Colin Angus!
This month's geotrivia answer:
Armenia / Azerbaijan
Bangladesh / Burma (Myanmar)
Benin / Burkina Faso
Bolivia / Brazil
Cameroon / Central African Republic / Chad
Cameroon / Congo-Kinshasa / Congo-Brazzaville
Central African Republic / Congo-Kinshasa / Congo-Brazzaville
Guinea / Guniea-Bissau
Iran / Iraq
Kazakhstan / Kyrgyzstan
Latvia / Lithuania
Malawi /Mozambique
Mali / Mauritania
Niger / Nigeria
South Sudan / Sudan
Zambia / Zimbabwe
We gave a half point for
We gave five points for the creativity of
Argentina / Australia
New Zealand / Norway
which all "border" each other due to their claims in Antarctica
How to play
Anyone can join in, you just need a Mastodon account.
Follow us on Mastodon, our account is @opencage@en.osm.town

When the game starts we will post the question here on the blog and on Mastodon, and will embed the Mastodon question here. We highly recommend using a mastodon client you feel comfortable with. We've made the switch to the Elk client and are loving it, but use whatever works for you.

Reply to the question thread on Mastodon (it will be embedded below) using the hashtag #fridaygeotrivia in your answer.

Only one answer per response (don't stuff multiple answers into a single reply).

Our definiton of "country" is usually (it depends on the question) any place with an ISO 3166-1 alpha-2 code. Read more background about ISO and country codes in our guide.

To get full points for an answer it is good form not just to name the relevant country but (if possible) to include the emoji flags of the country.

While you can use a map, please do NOT use the internet to just search for an answer. That is cheating and will lead to seriously bad geokarma.
Some people have complained that the format is a bit chaotic and hard to follow. Yes. The mad chaos is part of the fun. Embrace it. The goal is just to have fun and learn. We win by playing
Thanks for playing,