Geotrivia - April 2023: provinces sharing names with countries
24 Apr 2023
Hi everyone,
welcome to the April 2023 edition of #fridaygeotrivia, our a social media geotrivia contest. will take place on Friday, 28th of April 2023 at 18:00 Berlin time, 5pm London time, 12 noon New York time.
For more background on #fridaygeotrivia you may enjoy this interview with our friends at Geoawesomeness about the game (bearing in mind of course that the article references the old twitter way of playing).
How to play
Anyone can join in, you just need a Mastodon account.
Follow us on Mastodon, our account is @opencage@en.osm.town

When the game starts we will post the question here on the blog and on Mastodon, and will embed the Mastodon question here. We highly recommend using a mastodon client you feel comfortable with. In the last month we've discovered and made the switch to the Elk client and are loving it, but use whtever works for you.

Reply to the question thread on Mastodon (it will be embedded below) using the hashtag #fridaygeotrivia in your answer.

Only one answer per response (don't stuff multiple answers into a single reply).

Our definiton of "country" is any place with an ISO 3166-1 alpha-2 code. Read more background about ISO and country codes in our guide.

To get full points for an answer it is good form not just to name the relevant country but (if possible) to include the emoji flags of the country.

While you can use a map, please do NOT use the internet to just search for an answer. That is cheating and will lead to seriously bad geokarma.
Some people have complained that the format is a bit chaotic and hard to follow. Yes. The mad chaos is part of the fun. Embrace it. The goal is just to have fun and learn. We win by playing
Prizes
#fridaygeotrivia is a game with two prizes:
the sheer joy of geographic knowledge and pedantry.

the bragging rights of getting the answer first.
The April 2023 geotrivia question:
Name states/provinces that share a name with countries they are not part of
A famous example - "Georgia" is the name of a country and a US state.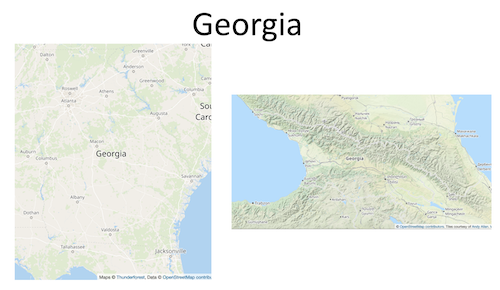 Remember: to get the points you need the #fridaygeotrivia hashtag AND the emoji flag of the country. And only one answer per response.
The #fridaygeotrivia Mastodon thread:
The winner
After finishing second a few times in the past, @ryankas takes home the title, just beating out @ntsoloud. Well done!
This month's geotrivia answer:
Bolivia, and Bolivar, Ecuador
Bolivia, and Bolivar, Peru
Colombia, and British Columbia, Canada
Georgia, and Georgia, United States
Guyana, and French Guiana, France
Guyana, and Región de Guayana, Venezuela
India, and Indiana, United States
Ireland, and New Ireland Province, Papua New Guinea
Ireland, and Northern Ireland, United Kingdom
Jersey, and New Jersey, United States
Luxembourg, and Luxembourg, Belgium
Mali, and Mali Prefecture, Guinea
Mongolia, and Inner Mongolia, China
Mexico, and New Mexico, United States
New Zealand, and Zeeland, Netherlands
North Macedonia, and Macedonia, Greece
Pagua New Guinea, and Papua province, Indonesia
Portugal, and Portuguesa, Venezuela
Romania, and Rome, Italy
Serbia, and Republika Srpska, Bosnia and Herzogovina
Somalia, and Somali Region, Ethiopia
Spain, and Port of Spain, Trinidad and Tobago
We also gave points for
England, and the New England region, United States
Scotland, and Nova Scotia, Canada
Scotland, and New Caladonia, France
Wales, and New South Wales, Australia
Thanks for playing,