Geosearch early access list now open
21 Sep 2021
Hi everyone,
As anyone who regularly listens to the Geomob podcast (most specifically Episode 93), will know, after a bit of a delay due to other projects and a well deserved, and much needed summer break, we are back at work on a new product: geosearch.
As a reminder, we have a detailed guide explaining the difference between geocoding and geosearch.
Rather than having a "big bang" launch, our geosearch product will go live in several different phases so we can learn and adapt as we go.
A few months ago we called for geosearch alpha testers. Many thanks to everyone who responded. We have not forgotten you! We hope to have a first version for testing in the coming weeks.
We have also now opened up a sign up form for anyone wanting early access to the geosearch service. These folks will get access to the new product a few week before it goes live for everyone and will receive a slight (probably 10%) discount on pricing in exchange for accepting that the product may still have a few rough edges on day one. Their feedback will help us quickly polish and improve the service before we open the gates to everyone.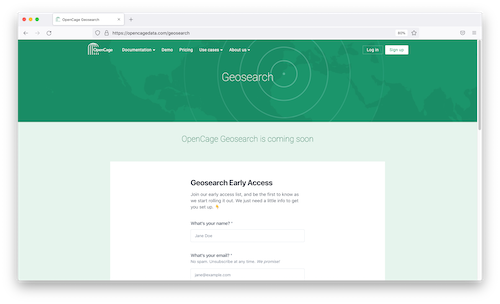 If you have an urgent need for geosearch, or just generally like testing new things, please sign-up for early access.
Many thanks everyone for your patience as we get geosearch rolled out.
Happy geosearching (and geocoding),