Geocode in MATLAB
8 Oct 2018
Hi friends,
I have some great news to share - thanks to Alexander Dentler of CIDE we now have a tutorial showing how to use our geocoding API in the programming language MATLAB.
The tutorial uses functions that Alexander wrote, which are now in the opencage-matlab repository on Github. Feel free to submit a pull request with any improvements.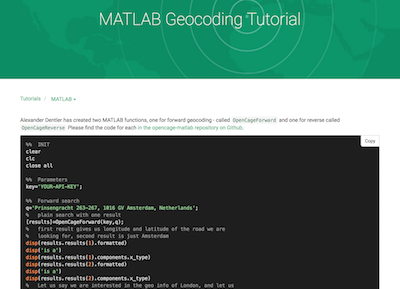 Many thanks, Alexander!
Like all of our wrapper libraries and tutorials, be they written by us or open-sourced by the community of OpenCage users, this new tutorial is linked from our libraries page.
We're always on the hunt for new ways to make it easier for people to use our API. If you're interested in writing a wrapper library for the API in a programming language or software package that we don't yet have, please get in touch. We look forward to featuring your library.
Happy geocoding,