A fresh coat of paint for the blog
10 Dec 2020
Hi everyone,
as 2020 draws to a close we've been looking back on a year that no one who lived through it will soon forget. But likewise we've been taking stock of what we should change and improve going forward.
One area we hope to put more effort into is more "working in public" - giving you more regular updates not just on new features and partnerships, but also a look at the day to day efforts that go into creating a great geocoding API.
This effort has, to a degree, already kicked off with my semi-regular updates on the Geomob podcast (together with co-host Steven Feldman). Last week on the @OpenCage twitter account we also started "tweet storming" - see the first thread about reverse geocoding - something we'll be working to make a regular occurance.
But in addition to all that, we decided it was time to clean up the look and feel of our blog with a redesign. Some might say "design", as the previous look had a "engineer throws together a site in 5 min" style. With the new design, we bring the blog much more into line with our main website. Besides a general cleanup and round of decluttering, we also now have the chance to feature more important news for longer in the new "Featured Articles" section, while still keeping a feed of newest updates.
For comparison here are the old and new designs:
Old: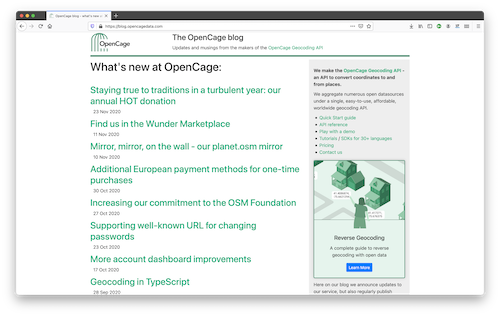 New: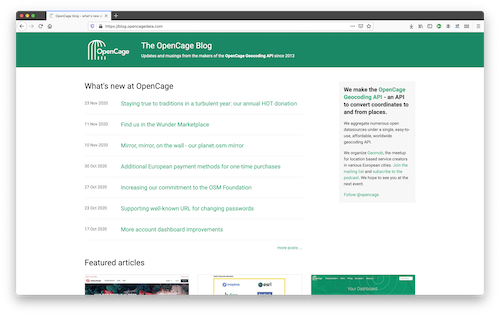 We hope you agree it's a nice improvement. Credit where credit is due: our thanks to Marc Jenkins of 16BY9 for taking the lead on helping us with this project.
We're looking forward to sharing more about our business with you in 2021.
Happy geocoding,