Fresh look for Geomob
22 Sep 2022
Hi everyone,
I am delighted to share some aesthetically pleasing news: we have redesigned the Geomob website.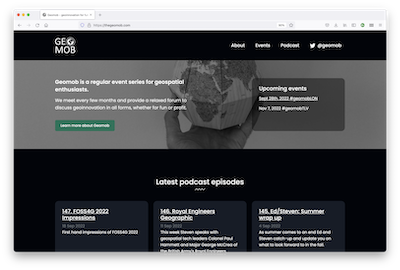 Geomob has grown over the years from a quarterly meetup in London to now include other cities, a podcast, and a monthly newsletter. As we grew we added new sections to the website, but over time that had become a bit unwieldy.
A refresh was long overdue.
Many thanks to the team at web design consultancy 16by9 who lead the effort on this project.
I'm particularly pleased with our the new "About" page where we describe what exactly we're up to at Geomob.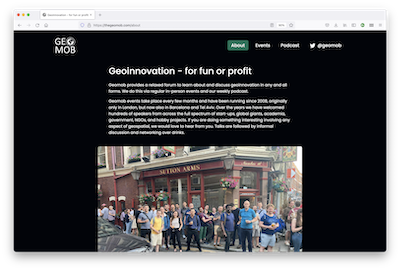 Including (if you scroll down a bit) a photo section that gives a taste of what you can expect at a Geomob event.
Speaking of which, our next Geomob event is next week, on Wednesday the 28th in London. I hope you can join us!
Many thanks to the sponsors who help us pay for the events and the running costs of the podcast. Most of all though, thank you to all of the great speakers at the events and on the podcast who share their geospatial projects and learnings with us. Without all of you, there would be no Geomob. We have had some fantastic talks. A few years back I started compiling a list of all the Geomob speakers, and I've been maintaining it ever since. As time as past it's become quite the who's who of the European geospatial scene.
The list is impressive, but there is always room for more. Please get in touch if you would like to speak at a future Geomob event, or if you have feedback on the new design.
Yours in geo-innovation, whether for fun or profit,