Interview: State of OpenStreetMap in Bangladesh
11 Oct 2014
Today for the first time we feature an Asian country in our OpenStreetMap country profile series. We spoke with Ahasanul Hoque about the current state of OSM in Bangladesh.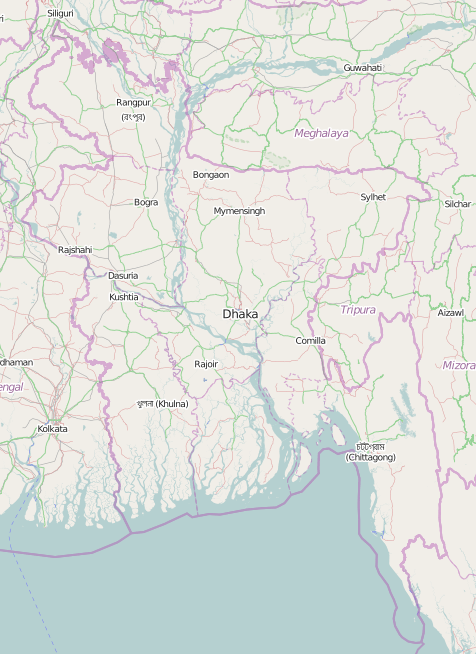 1. Who are you and what do you do? What got you into OpenStreetMap?
I am Ahasanul Hoque, working as GIS and Data Management Specialist in Water Sanitation Program of World Bank Bangladesh. GIS is my passion and working with it nationally and internationally for long 10 years. During my Master's Degree in Asian Institute of Technology, I got involved in OpenSource GIS. After coming back to Bangladesh GFDRR's collaborative open city project gave me the chance to work actively with OpenStreetMap. Two year back, all of Bangladesh was almost BLANK in OSM. As a GIS geek and supporter of free and opensource projects I realized the huge potential of OSM in developing Bangladesh, a country with regular disaster threat, top listed for climate impacts. I have been spreading the word every chance I get and I finally see the community waking up.
2. What would you say is the current state of OSM and the OSM community in Bangladesh?
Unlike European countries, I would say that, right now in Bangladesh OSM is in child stage, the community is being built up. OSM is established in European countries and has become a social phenomenon there, people have the esteem to map every inch of their country together to create a free and complete map. But it's still not that fancy here in Bangladesh. Different university students are aware and started mapping in different corners discretely.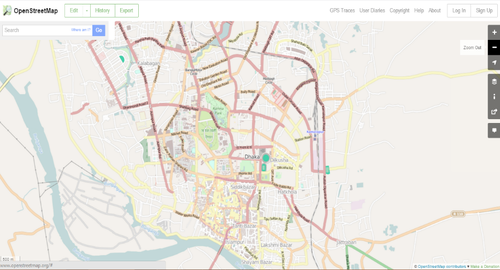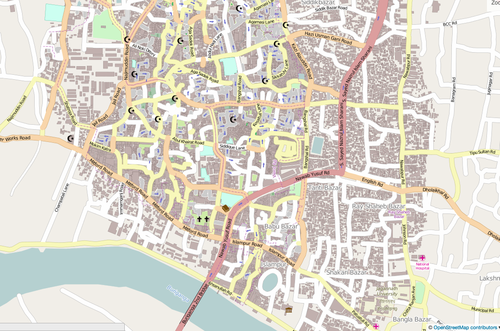 With the GFDRR and WSP support each and every corner of few wards of Dhaka city have been mapped. Other organis__ations also saw the potential of this users' map and throwing more projects regarding OSM mapping. I believe these will create a big wave among different communities what will lead to more data in OSM from Bangladesh.
3. What are the unique challenges and pleasures of OpenStreetMap in Bangladesh? What aspects of the projects in Bangladesh should the rest of the world be aware of?
The challenges for Bangladesh is the lack of awareness, knowledge of benefit, potentiality, interoperability of the OSM; Mostly people do not realize the significance of free geographic data and are just too lazy to be bothered to help the community. The popularity of Google maps is also a challenge.
The pleasure is that, OSM becoming more popular among Government organizations than all others, they are showing more and more interest. Recently the Water Supply and Sanitation Authority department showed their interest and got the training 2 weeks back to map the water and drainage network in Slum areas of Dhaka City Corporation.
The rest of the world should be aware of the amazing talent of students in Bangladesh. The more and more students should be motivated and involved to OSM. Once they are commonly in any idea or process then they can bring rapid change and make the impossible to possible.
4. Looking at the OSM Bangladesh page on Facebook, it seems you are doing lots of training sessions. Can you describe this? Who attends, what do they learn, and how effective are the events? What percentage of trainees become active contributors?
Yes, I am trying to spread the knowledge of crowdsource OSM and to increase the community in Bangladesh where getting public/utilities data is a difficult thing.
Different classes of people attending the training, mostly students followed by NGO workers, Govt people, GIS professionals and researchers to learn the concept of mapping, Open Data, OSM. The events are effective in immediate weeks mostly. Though right now the percentage of active users is not satisfactory but there is a big hope in very coming days when the community will be more involved in OSM mapping.
5. What could the global community do to better support OSM in Bangladesh?
From my point of view, the global community already playing great role to spread the OSM, tutorial documents, youtube videos etc and adding more and more data every day. The data adding pace will be faster if the community can involve the OSM more with academia.
6. OSM recently celebrated it's 10th birthday, where do you think the project will be in 10 years time, both globally and in Bangladesh specifically?
Wikipedia of maps, the OSM is stepping from its young to its mature stage, I can say. Next to GPS, the most significant development in the Open Geo Data movement is OpenStreetMap (OSM), a community-driven mapping project whose goal is to create the most detailed, correct, and current open map of the world. Maybe it is one of the most popular and single common thing in the world what spread with highest velocity by the enthusiastic users from different corner of the world. OSM now has more than 1.5 million registered users, including major mapping and navigation companies. There are several OSM apps in the app store, developers are continually working on or with it, humanitarian use of OSM make me think that by next 10 years OSM will be much more useable, reliable and valuable in terms of navigation, designing, planning, project management, monitoring, pre-during-post disaster management. As I told before, OSM is not only a map, it's a global social wave. So Bangladesh won't be out of this wave like other technology and knowledge in this era of ICT. There are several OSM projects going to be launched very soon by different iNGOs in Bangladesh and by next 10 years the whole country will be covered with almost all sorts of tags and keys that I wish and believe.
Many thanks Ahasan, to you and all the members of the OSM Bangladesh community. Keep up the great work! Keep pushing. Anyone interested in tracking Ahasan's efforts should follow his blog. 
You can see all the Open Geo interviews here. If you are or know of someone we should interview, please get in touch, we're always looking to promote people doing interesting things with open geo data.