OpenCage in the wild - Global Terrorism Database
7 Aug 2014
Today we kick off what I sincerely hope will be a new regular feature here on the blog - an example of someone using the OpenCage geocoder "in the wild" to do something creative, important, or just plain cool. Today's project falls into all three categories. A few weeks back we were approached by Brian Wingenroth of University of Maryland in the US about using our geocoder for a visualization of all terrorism attacks as part of the university's Global Terrorism Database project. 
The outcome is now live and it is very impressive visually and hopefully serves as a useful tool in the discussion around this important (and unfortunate) topic. I encourage you to have a look, and we are proud to have played a small part. It is a good example of the great things people can build quickly when open-data is combined with powerful tools.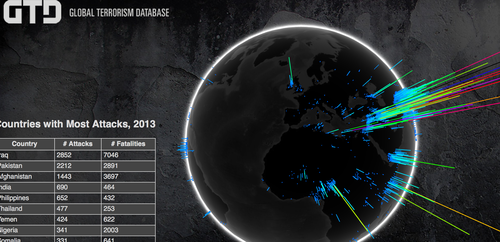 The project was covered in a bit more detail over on Google Maps Mania. Congrats to Brian and the entire project team.
If you do something interesting or cool using our geocoder please get in touch, we'd love to feature it here.