Our annual donation to Humanitarian OpenStreetMap Team (HOT)
27 Nov 2022
Hi everyone,
the end of the year is approaching, and with it the holiday season, a chance to reflect. It has been a very difficult year for many.
It is thus very pleasing to be able to continue our long-standing tradition of an annual financial donation to the Humanitarian OpenStreetMap Team (HOT) to support the work they are doing.
HOT is, in their own words: "an international team dedicated to humanitarian action and community development through open mapping. We work together to provide map data which revolutionises disaster management, reduces risks, and contributes to achievement of the Sustainable Development Goals."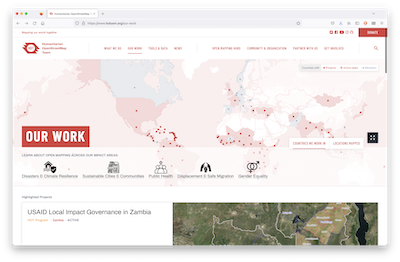 If you are not yet familiar with their work, we strongly encourage you to take a look (and get involved). We're proud that we are able to once again help play a small part in supporting their efforts.
There are many simple ways you can also get involved in supporting HOT: financially at donate.hotosm.org, as a mapper, and/or by helping develop the software used by the mappers.
If you want to learn more about what HOT is working on, I invite you to listen to this week's episode of the Geomob podcast (Episode 157), where it was my pleasure to speak with Minica Nthiga, director of HOT's Eastern and Southern Afria Open Mapping Hub. Monica goes into detail about their work and how the organization has evolved and matured over the past few years. You can also check out the 2021-22 HOT impact Report.
Finally, just as in years past, I'd like to extend our thanks to our customers around the world who enable us to support projects like HOT and otherwise support the OpenStreetMap community. Thank you!
We are looking forward to a great 2023,
Ed (Freyfogle)