Our 2021 donation Humanitarian OpenStreetMap Team (HOT)
14 Nov 2021
Hi everyone,
the holiday season is drawing close, and with it the normal instinct to look back on the year; to take stock of events and reflect on what was accomplished. It's been a mixed year for everyone as the world slowly comes out of the pandemic.
In this context I am pleased to say that while much has changed in the world, some things have not. We are very happy to announce the continuation of our annual tradition of financially supporting the work of the Humanitarian OpenStreetMap Team (HOT).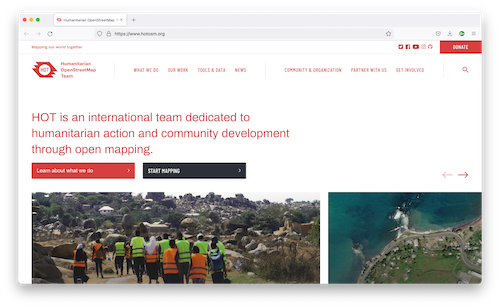 The Humanitarian OpenStreetMap Team is an organization that coordinates volunteer mapping. Building on top of OpenStreetMap, their work serves two purposes: improving humanitarian response and encouraging community-led development. If you are not yet familiar with their work, we strongly encourage you to take a look (and get involved). We're proud that we are able to help play a small part in supporting their efforts.
There are many simple ways you can also get involved in supporting HOT: financially at donate.hotosm.org, as a mapper, and/or by helping develop the software used by the mappers.
Just as in years past, I'd like to extend our thanks to our customers around the world who enable us to support projects like HOT and otherwise support the OpenStreetMap community. Thank you!
looking forward to a great 2022,
Ed (Freyfogle)
BTW - if you want to learn more about HOT, their annual summit is coming up on the 22nd of November. This year's theme is "The Evolution of Local Humanitarian Open Mapping Ecosystems: Understanding Community, Collaboration, and Contribution"